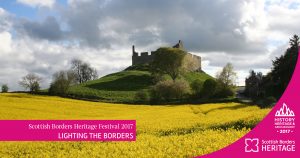 FRIDAY 1st SEPTEMBER – 3rd SEPTEMBER
LIGHTING THE BORDERS | Scottish Borders Heritage Festival Opening Event
'Lighting the Borders' is a Year of History, Heritage and Archaeology Signature Event.
To open this year's Scottish Borders Heritage Festival (#BHeritageF17) we plan to illuminate the Scottish Borders landscape with light, story, performance and song.
To re-enact the lighting of signal fires, 25+ historic sites will be illuminated across the Scottish Borders. Eleven performances that reflect our historic and cultural diversity have been programmed at a range of historic sites. We will use a variety of lighting to form a chain across the landscape at dusk on each evening. All buildings in the sequence will be colour washed or highlighted in blue for 3 nights from the 1st to 3rd September.
Follow the chain of light at these sites:  Aikwood Tower, Ayton Castle, Bowhill House, Coldstream Community Centre, Duns Castle, Duns Law, Duns Parish Church, Eyemouth Fort, Fatlips Castle, Floors Castle, Gunsgreen House, Hermitage Castle, Hume Castle, Jedburgh Abbey, Jedburgh Castle Jail, Kelso Abbey, Kelso Town Hall, Mary Queen of Scots House, Melrose Abbey, Neidpath Castle, Newark Castle, Old Parish & St Paul's Church, Peniel Heugh, Riddell Tower, Smailholm Tower, Stobs Camp and Thirlestane Castle.
SATURDAY 2nd SEPTEMBER
LIGHTING THE BORDERS | Hume Castle
'The Road to Pinkie' #1 – Medieval re-enactment, Storytelling, Living History and Tour
13:00 – 21:00 Hume Castle, Hume, Greenlaw, Berwickshire, TD5 7TR
Tel: 01573 410743 | Entry:  Free (Collection for donations)
Join us at Hume Castle for a day of living history, storytelling and song!  Come and see the Kelso Laddie, Greenlaw Maid and entourage ride in on horseback to open the event at 13:00 followed by an afternoon of re-enactment and living history with the Lothian Levy to include living history camp, drill training, skirmishes and the representation of the castle's fortunes in the Rough Wooing. See Lady Hume's surrender on the battlements and the Hume Banner (Marchmont Standard) flaunted for the first time in many centuries! Other highlights include: Archaeological Walk and Tour with Piers Dixon, Hog Roast, Medieval Food, Smailholm Singers, Northumbrian and Scottish Pipers, Poetry, Storytelling and Music. This event is the first of three precursors to the Battle of Pinkie re-enactment.